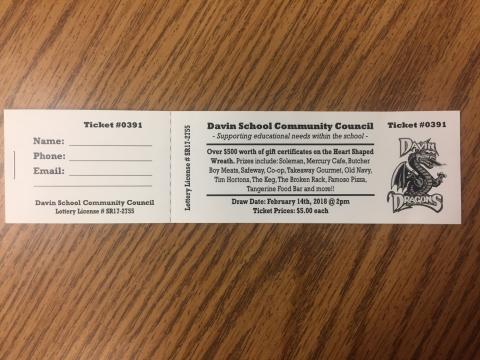 As noted before the break, the Scotia Bank on 13th Avenue, along with Davin's SCC, has organized a "Gift Card Wreath" fundraiser just in time for Valentine's Day. The wreath has $745 in gift cards to a variety of stores and restaurants around Regina.
The deadline for gift card donations is Friday, January 12th, so if you are planning to donate one, please have those in ASAP. Thank you to those of you who have already donated a gift card. Your generosity is much appreciated.
Today, your child was given one ticket booklet to take home. Each booklet contains 5 tickets valued at $5 a piece (booklet is worth $25). The hope is that each child (or family, for those of you who have many children @ Davin), will sell at least one booklet of tickets. If your child sells his/her booklet quickly and you know you can sell more, Ms. Bussiere has extra booklets in the office. A $50 gift card to a location of the winner's choice will be given the to the family that sells the most tickets.
Please note that ALL tickets/money must be returned by February 13th, 2018 (NO EXCEPTIONS), as the draw will be done at 2:00 PM on February 14th.
Please also note that students are responsible for the ticket booklets they take home. All money raised, tickets sold, and unsold tickets must be returned to the classroom teacher on or before February 13th. Payment for lost booklets will be the responsibility of the student who lost them.
Thank you in advance for your support and your participation in this fundraiser. A picture of the wreath will be posted on Davin's Facebook Page within the week, and the wreath itself will be displayed at the Scotia Bank on 13th Avenue.
All money raised goes directly back into your child(ren)'s classroom (s) to purchase resources that will support literacy & numeracy.
Gift card values range from $20-$50 and include such places as The Keg, Tim Hortons, the Mercury Cafe, Cineplex, Butcher Boy Meats, Soleman, Tangerine, Winners, the Broken Rack, Safeway, North Face, Famoso, Chapters, Old Navy, Gale's Florist, Co-op, Takeaway Gourmet, Claire's, Leopold's Tavern, and Starbuck's.