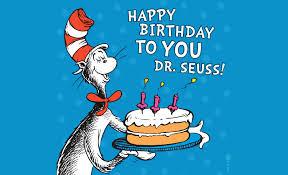 Monday, March 2nd is Dr. Seuss Day (his birthday). In honour of his birthday, The Crescents is hosting Family Literacy Night that will run from 4:30 - 5:30 pm.
There will be literacy stations, birthday cake and the joy of reading!
On Friday, February 28 there will be a "Take 20" activity sent home with students. If they bring back the sheet initialled on the activities they have completed by Monday they will be entered into a draw for a Literacy Prize. Students must be present at our Monday Literacy Night in order to win.
In the end, we all win when we read together.
See you there!